Financial Markets Quality Conference
Print Page

October 10, 2017
8:00 AM – 5:00 PM EDT
The Georgetown Center for Financial Markets and Policy, in partnership with the Financial Times, is hosting its annual Financial Markets Quality conference on October 10, 2017. The event will be held in the Rafik B. Hariri Building, McDonough School of Business, on Georgetown University's campus.
---
Agenda
8:00 - 8:45 am: Registration/Networking/Breakfast
8:45 - 9:00 am: 2017 Financial Markets Quality Introduction and Kick-Off
9:00 - 9:30 am: Keynote: Mark Makepeace, Group Director of Information Services, London Stock Exchange Group and Chief Executive of FTSE Russell
9:30 - 10:30 am: Market Structure - The Vision from the Exchanges
Chris Concannon, President and COO, CBOE Holdings
Tom Farley, President, New York Stock Exchange
Tom Wittman, CEO, Nasdaq Stock Exchange
10:30 - 10:45 am: Coffee Break
10:45 - 11:45 am: Trends and Forces Driving the Capital Markets
Mike Beller, CEO, Thesys
Daniel Gorfine, CIO, CFTC
Nelson Griggs, President, Nasdaq Stock Exchange
Matthew Roszak, Co-Founder, Bloq
Ari Rubenstein, CEO and Founder, GTS
Bob Walley, Co-Head of Global Securities, Deloitte
11:45 am - 12:15 pm: Keynote: Robert Cook, CEO, FINRA
12:15 - 1:15 pm: Lunch and Networking
1:15 - 1:45 pm: Keynote: Mary Callahan Erdoes, CEO, J.P. Morgan Asset & Wealth Management
1:45 - 2:15 pm: Keynote: Adena Friedman, President and CEO, Nasdaq
2:15 – 3:15 pm: Exchange Traded Products
Reginald Browne, Senior Managing Director and head of ETF Trading, Cantor Fitzgerald
Dan Draper, Global Head of ETFs, PowerShares by Invesco
David LaValle, MD and U.S. head of SPDR ETF Capital Markets, State Street Global Advisors
Ananth Madhavan Global Head of Research, ETFs and Index Investments, BlackRock
Bibb Strench, Partner, Thompson Hine
3:15 - 3:30 pm: Coffee Break
3:30 – 4:30 pm: Regulatory and Policy Environment
Dan Crowley, Partner, KL Gates
Stephanie Dumont, Senior Vice President, FINRA
Donald Langevoort, Thomas Aquinas Reynolds Professor of Law, Georgetown University Law Center
Joel Oswald, Senior Partner of Financial Services, Williams & Jennings
Margaret Paulsen, Senior Managing Director, FS Risk & Regulatory, PwC
4:30 – 5:00 pm: Keynote: Commissioner Michael Piwowar, U.S. Securities and Exchange Commission
5:00 – 6:00 pm: Networking Reception
Sponsors
Thank you to our sponsors and participants for supporting this event.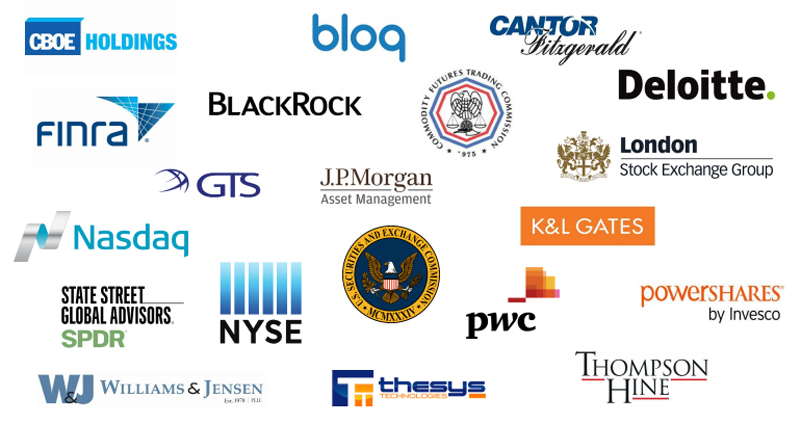 Media
If you have any questions regarding public relations or social media, please have your public relations manager contact Molly Fleenor, assistant director of communications, Georgetown McDonough School of Business, at (202) 687-5254 or Molly.Fleenor@georgetown.edu.
Please find our Media Toolkit here.
Please find directions to the McDonough School of Business here as well as a map of campus.